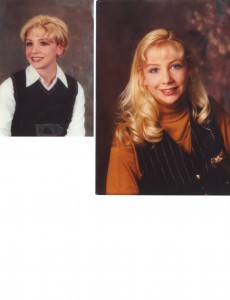 Whitney Emberton was a young and beautiful 15 year-old; full of life and potential.  Instantly her entire future was taken away when Whitney was killed in an automobile crash caused by a drunk driver on July 4, 1998.
Although she was not old enough to have a driver's license, Whitney had expressed her interest in becoming an organ donor and intended on signing that license, to indicate her willingness to save lives, when she was old enough to get one.  Marcella, Whitney's mom, recalled having many conversations with her daughter about organ donation, an issue of which Whitney was very familiar.  Whitney's grandmother was a kidney transplant recipient receiving a donated kidney from her own daughter.  Whitney clearly understood the importance of donation and transplantation.
Whitney was a tissue donor and gave the gift of sight to a young Louisville man and to a 26 year-old mother of two, who for the first time saw the faces of her small children. 
Whitney Barcel Emberton; devoted daughter, loving sister, loyal friend, organ donor.  Always cherished, eternally missed, forever in our hearts.
(Story shared by Whitney's family.)