GLASGOW – When she was 20 weeks pregnant, Tabatha Ballard found out that something was wrong with the baby's heart, and after a referral to Lexington, she learned he had a congenital heart defect called hyperplastic left heart syndrome.
Basically, she said, it meant the left side of his heart didn't form, so he was going to be born with half a heart.
With his 4th birthday approaching in July, Walker Ballard was a bundle of energy, running and playing tag or hide-and-seek with his brothers or staff members during an early celebration in his honor at the Barren Circuit Court clerk's office Wednesday. He's not home free yet, though.
The office's staff had conducted a fundraiser for Trust for Life, a circuit court clerk's organization that supports and promotes organ and tissue donation, that yielded a $2,000 donation, and it collected items for a toy drive the family decided to have for Nationwide Children's Hospital in Columbus, Ohio, where he received a heart transplant almost a year ago and where he has spent much of his brief life thus far.
Ballard said the hospital gets a lot of toy donations around Christmas-time, but by summer, the selection is usually pretty thin.
The clerk staff also had food, beverages and gifts just for Walker that he opened after his mother told his story.
She said that when the diagnosis came, her family was presented with multiple options, "but the only one that felt right to us was to fight and go through with the surgeries."
They said he would need three open-heart surgeries, multiple heart catheters and other procedures, and, someday, a transplant. They were hoping the transplant wouldn't be needed so soon, she said, "but Walker sometimes has plans of his own."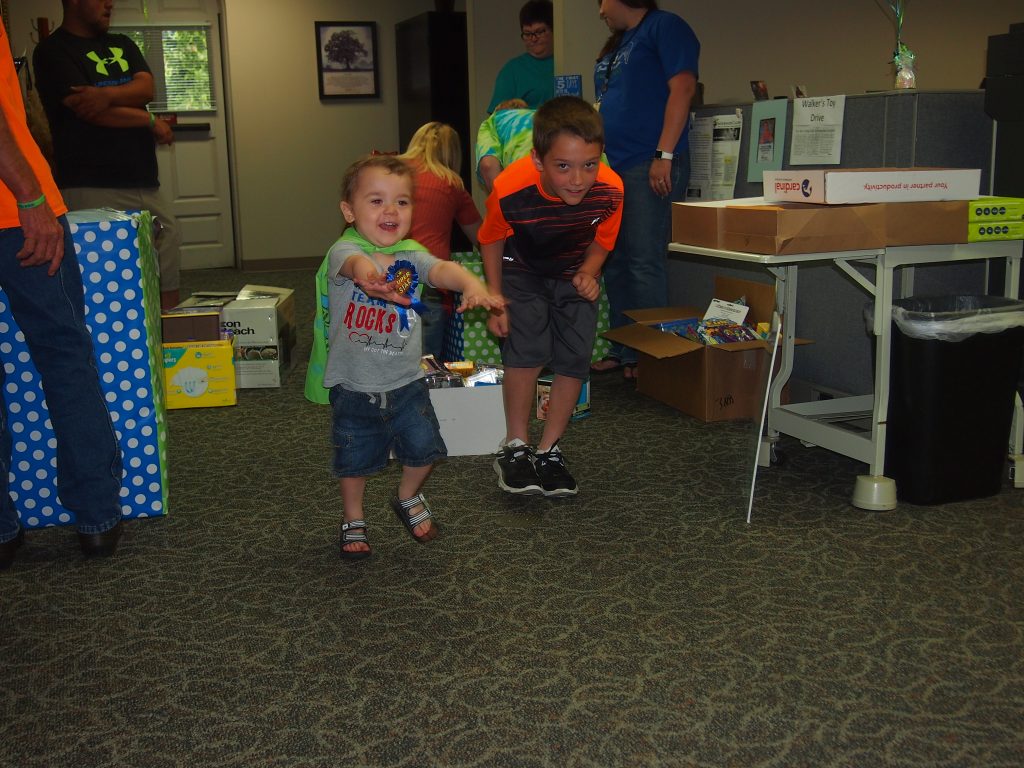 His first surgery was when he was almost 2 days old, and he had a really hard time with the second one, when he was 4 months. His third was supposed to be the final, but his body didn't adapt to the new circulation and he went into heart failure, his mother said. The doctors tried several approaches, but none seemed to work, so he began the wait for a heart to be transplanted – "the only option" at the time.
On Father's Day last year, they got the call. A range of emotions ensued, from relief to terror and including sadness, because it meant other parents were losing a child.
He had his surgery the next day, and it took about 12 hours, Ballard said.
"The surgeon said it was one of the hardest he had done, and he didn't know for sure he was going to be able to do it because Walker had so much scar tissue and they had operated on him so many times," she said. "But 12 hours out, he was sitting up and talking and wanting ice and water and blowing kisses. So we've been very, very blessed. We are just so, so thankful. I know that without somebody donating that he would not be here today. He was so, so sick, and he is a totally different child. He is full of life. It's amazing; I can't believe the difference."
Stephanie Grooms, the statewide educator for Trust for Life, asked how their lives are different now, and how this summer may be different than those in the past.
Ballard said they've spent the prior summers at the hospital, but she's hoping that Walker continues to do well and that won't be the case this time. He's been accepted by the Make-a-Wish Foundation, the family hopes to take the trip he wants this summer while the kids are out of school.
She asked her son to tell the people gathered whom he wants to meet. A clue was on the cap he was wearing that had round, black ears sticking out from each side of it.
"Mickey," Walker said quietly, but then Grooms suggested he should say it loudly enough for Mickey to know what he wanted. "Mickey Mouse!" the boy said.
Ballard said she was really afraid he was going to die before a transplant became available, as he just kept getting worse and various complications arose that had to be addressed.
Even now, almost a year afterward, she said he's been having some swelling that creates concern his body is trying to reject the heart, and he's taking anti-rejection medication, she said.
They make the trek to Columbus roughly every other month for checkups.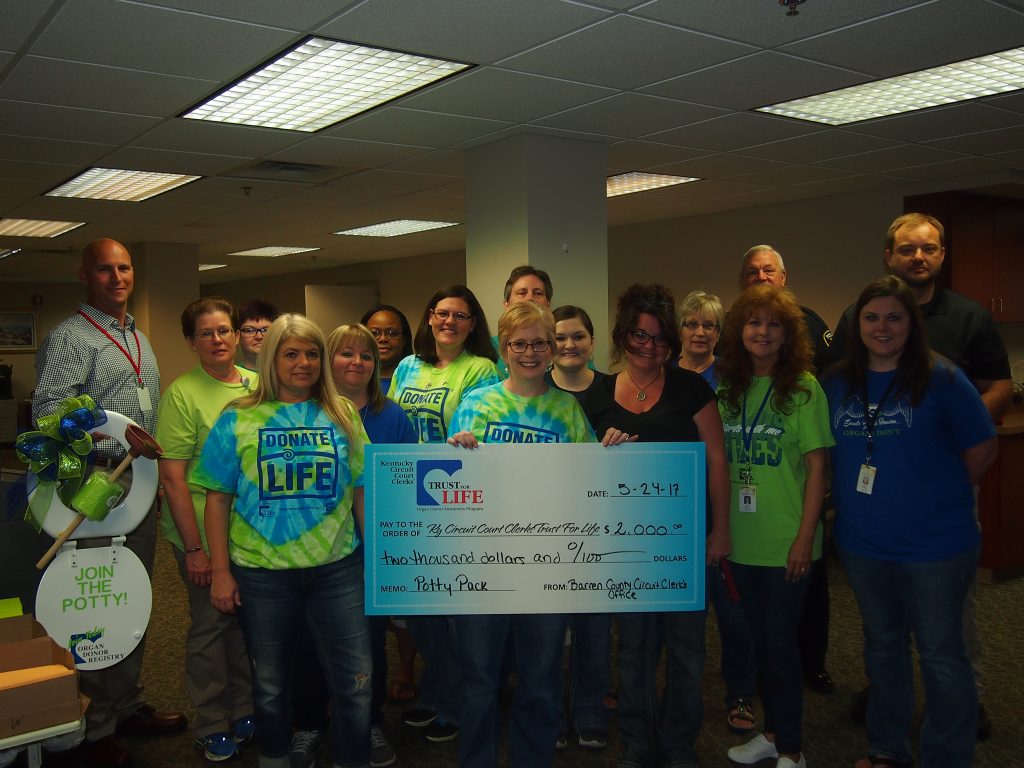 Even if everything with the heart goes perfectly from here, he will still need another transplant in 10 to 15 years, the mom said.
Grooms told the Glasgow Daily Times that because of the great work the clerks' offices are doing, the percentage of the population on the donor registry has increased from 38 percent to 53 percent in the past seven years, and, when family members are faced with the decision of donating their dying loved ones' tissues or organs, roughly half agree to it.
It's really important for those who want to be donors to talk with their family members in advance, so the patient's wishes do not come as a surprise and those tough decisions are avoided at a time that is so difficult already.
Roughly 1,000 Kentuckians are on the waiting list, and 119,000 nationwide are awaiting transplants, Grooms said. Less than 1 percent of people pass away in a manner that allows for donation, so that's why it's important to have more people on the registry, she said, but one donor can save the lives of as many as eight people.
Before introducing Tabatha Ballard, Barren Circuit Court Clerk Krissie Coe Fields thanked her staff for helping to put the event together and arranging for Walker to be there.
"We've all kind of followed him along the path on his journey with his heart transplant," she said. "As many of you know, the circuit clerks' mission, one of our missions, is to promote organ and tissue donation, so anytime anyone comes in to get their drivers license, we ask them, 'Do you wish to become an organ and tissue donor?' or 'Do you wish to donate a dollar for promotion?' and that helps us have leaflets and different things in the community that promote organ and tissue donation."
Although Walker got his heart in Ohio, somewhere along the way, someone said yes to being a donor, "and that's the reason Walker's here today."
Written by Melindia J. Overstreet
Glasgow Daily Times