Ricky Bussell – Organ Donor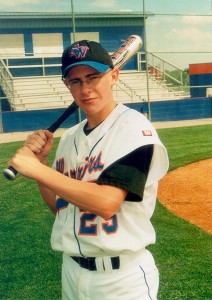 My brother was a typical boy with a huge love for baseball, riding horses, working outdoors, and spending time with his family and friends.  Ricky was very dedicated to his team and teammates, if there was someone who was having trouble with grades and might not be able to play or even having trouble on the field, Ricky would stay after school or come in early to help.  He even spent his spare time caring for the baseball field at his school.  Ricky was a caring person who always loved watching his team succeed.  The year Ricky passed away, his high school baseball team went on to win the district, region and competed in state. His teammates said that the drive and determination that Ricky had shown them over the years is what made them so successful. Even though Ricky's teammates have all graduated and have gone on with their lives, you can still find memorabilia of him at the field house, and every year since his passing, The Ricky Bussell Memorial Baseball Tournament is held in his honor.
We were 12 years apart, so I often thought of him like a son.  We enjoyed spending summers & weekends together at our house, traveling with baseball, and on the farm.  He was very dedicated and a big part of my son's life, who was 2 at the time Ricky passed away.
We had only really talked about organ donation once.  When he got his license, he wanted to use my car.  I had to be out of town for work, so my dad took him to take his driver's test.  Ricky called my cell phone during my meeting to tell me he passed.  He was so excited!  Dad told me later that the first thing Ricky said when he walked up to the clerk at the driver's license counter was that he wanted to be an organ donor.  I don't think that's what most kids think about at that age, but he was such a caring person; I can see why he would have.
Two months later, my brother died in a car accident.  School had let out early for snow, and after dropping his girlfriend off at home, it started sleeting.  Apparently he overcorrected and hit another car head on.  When we were at UK hospital, they asked our family about donation.  Although I believe we would have said yes anyway, I remembered his wishes when getting his driver's license.  There was no thought necessary because I knew that was what he wanted.  He wanted to be an organ donor to save lives and help others.
It helped with our grieving process because we knew that he could give someone else hope. 
When I received the letter showing what he was able to donate and all the people he helped, it was incredible to know that someone else would have a heart they were waiting on.  That someone would be able to see their grandkids through the gift of his corneas.  He was able to donate and help more than 10 people, and we realize he still lives on in a lot of ways.  Now, I can tell my kids that their uncle saved lives.  It shows them what type of person he was – caring, generous, and always willing to help others.
I want to tell others that adding your name to the Kentucky Organ Donor Registry saves lives.  I would encourage everyone to talk to his or her family about donation. 
It has been 8 years since my brother passed away.  I still think of him daily, but organ donation has helped our grieving process because we realize that there is life after tragedy.  Organ donation gives someone else hope.  People received a second chance at life because of my brother.  Although losing Ricky was part of God's plan, his gift made life better for other people.  Organ donation allowed something good to come from our loss.  I have three boys – ages 10, 5, 2 – and as they grow up, I enjoy keeping Ricky's memory alive through baseball, but most importantly, organ donation and take pride in them knowing their uncle is a hero.
(Story shared by Kristi Fraley – Ricky's sister.)