Michelle-Thankful Daughter of a Lung Recipient
"WITHOUT THE ORGAN DONOR THERE IS NO STORY, NO HOPE, NO TRANSPLANT.  BUT WHEN THERE IS AN ORGAN DONOR, LIFE SPRINGS FROM DEATH, SORROW TURNS TO HOPE AND A TERRIBLE LOSS BECOMES A GIFT!"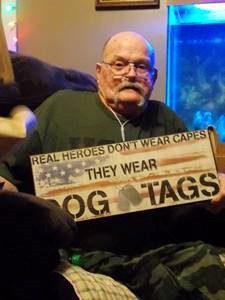 There are no words to tell you what organ donation means to me.  Due to organ donation, my family was given eleven more years with the strongest man I know…my dad.
My dad was diagnosed with emphysema in 1988.  This diagnosis forced him to retire from the career he loved with the United States Marine Corps in 1990.  This is when he would begin his fight for life.  After fighting to breathe and being hospitalized numerous times for pneumonia and difficulty breathing my dad was told he needed to consider a lung transplant.  In the beginning I had no knowledge of organ donation and the transplant process.  And to be honest, the thought of being an organ donor myself was not something I would have considered.  I had heard all the silly rumors as we all have.  "If you're an organ donor and are in an accident they won't try to save you" or even better "If you are an organ donor the paramedics will let you die in order to get your organs."
Needless to say I found out quickly these were all untrue!  Unfortunately, the facts I found out the hard way are 118,000 men, women and children are currently on the waiting list for an organ and every 10 minutes someone is added to that list!
My dad went from loving life to the fullest to not being able to do anything.  He went from camping, fishing and doing work around his home and yard to being totally housebound and 100 percent dependent on oxygen.  After many doctors' appointments, hospitalizations and the screening to be a considered a lung transplant recipient the moment came when he was put on the transplant list.  Two weeks later we received the call.  We were packed and ready for this moment but scared was an understatement.  We get four miles out of Barren County when we get the call it was a "no go".  The lung was not going to work.  Talk about fear!  We were so scared Dad was not going to get his second chance.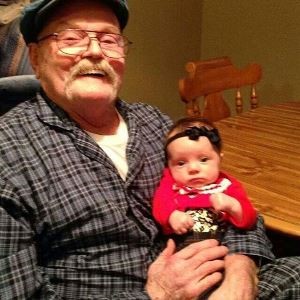 On July 8, 2004 the second call came.  We went on and made the drive to Jewish Hospital (one hour and forty five minutes away) and prayed this was it.  Our prayer was not only healing for my dad but for peace for him and the family of the donor.  Once we arrived we were told this was a go.  After many prayers and love you's my dad was whisked away to prepare for surgery and we were seated in the family waiting room.  There are no words to describe the feeling of watching your strong father's ch ance of life and hope arriving at the hospital in a red and white cooler being raced in by hospital employees.
We sit and we prayed for the donor's family that had given us this chance and we thanked God for this miracle of life.
My dad was given the opportunity to have eleven more years with his family.  He was able to camp, fish, spend time with his wife, children and grandchildren.  He was able to hold great-grand babies that he had given up the hope that he would live to see.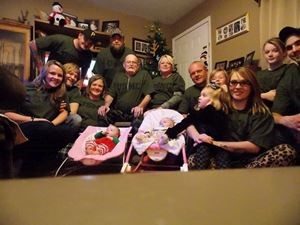 In December of 2015 at home and with his family by his side, my daddy took his last breath.  When asked days prior to losing him if he would do it all over again he responded without hesitation "Without a doubt, do you know what a gift my life has been!"
Saying "Yes" when asked if you want to be a registered organ donor means so much more than you will ever know! What are you waiting for!? Be someone's hero! Donate Life!