Fallon- Pancreas Recipient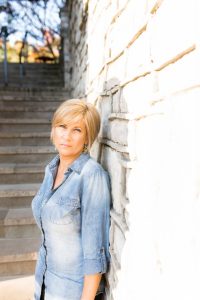 I had been a type 1 Diabetic since I was 12. I lived with Diabetes for 32 years, and I take great pride in knowing I followed all the doctors suggestions to the letter. All my organs were always great, I had no diabetic retinopathy, kidney problems, no problems with neuropathy in my legs or hands.
I was what was considered a text book diabetic. My A1C was always 7 or less for the entire 32years, but nurses always called me the "Brittle diabetic". Yes, I tested my blood 10x a day or more, because since the age of 19, I had no signs or symptoms of when I was having a low blood sugar. I went through life walking around at times for hours not knowing who I was, or how I had gotten somewhere. I would wake up with EMS workers surrounding me, asking me if I was okay, and did I know what year it was? I crashed my car once with my 2 year old in the back seat, and I had no clue where I was. My husband would wake up sometimes wondering if I was still alive. I would tell my doctors this and I was told to test my blood more often, so I did.
Finally in March, 2014, one of my doctors told me that this wasn't normal and that I needed a pancreas transplant. He told me that I had, what was known as hypoglycemic unawareness. It was a rare side effect, and it was the only way (other than kidney failure) to receive a pancreas only transplant . My whole world shifted that day, I was sure this miracle was meant for someone else.
After contacting my transplant center, and going through all the testing and interviews, In July of 2014 I was placed on the transplant list. I was told how rare a "pancreas only" transplant was and how few were actually done. During the 10 months I waited for "the call" I prayed for my donor family and I knew I wanted to meet them at some point to thank them.
On May 14, 2015 my miracle happened. The doctors told me it was a 20 year old healthy donor. I was excited and sad at the same time, my heart went out to my donors family. My transplant was a success and I didn't need any additional insulin. I wasn't a diabetic anymore, my entire life changed. I would be able to see my kids grow up and live their lives.
In January 2016, on a Saturday my whole world changed again. I received a letter from my donor's dad. I was floored again, literally. I sank
to my knees while reading the letter about a young man named Kam Chumbler, raise by a single father. Kam chose to become an organ donor when he joined the Kentucky Organ Donor Registry, His life was full of astounding accomplishments as a basketball star. He showed leadership skills and team building on and off the court. So, of course his death was just another extension of that.
Since my first meeting with my donor family, we have had a tight bond. we talk on the phone, text, and laugh often. We plan regularly to meet as any other family would. They are my new family, along with the other organ recipients. We have an unbreakable bond. Evidently, we are not the "normal" Donor/Recipient relationship, but I'm okay with that. They tell me that our relationship has given them closure and helped them in dealing with a tragic loss. For me, not only did Kam give me a second chance at life, he gave me a new family to love.
How do you say thank you for a second chance at life? You live well, take care of yourself and the gift that was given to you! Organ donation doesn't just save an individuals life, it changes generations to come. Become a history maker, Donate Life.