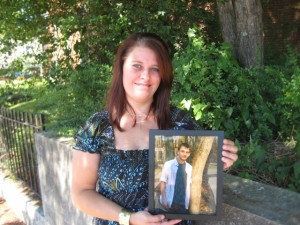 Tyler had a very warm and loving heart.  He would give the shirt off his back to a stranger if they needed it, and would go out of his way to make someone happy before himself.  He never met a stranger and was a self-proclaimed "hugger", making everyone he met feel comfortable and welcome, just like his mama.   Given these redeeming qualities, it was no surprise to his family that he continued to help others after he was gone.
When Tyler was just 20 he joined the Kentucky Organ Donor Registry, after his step-father passed away and was able to donate cornea and tissue.  "He was so proud of himself for signing up, he was excited to come home and tell us all what he had done," explains his mother, Carla Constant.
Tyler loved all things outdoors.  He loved to hunt, ride dirt bikes, fish, play the guitar, draw, and most of all, he loved kids.  He and his mother used to sit in their living room and play "You are my sunshine" together at an early age.  This memory is held dear to her now, as Tyler was not only her sunshine, but sunshine for those he saved.
Tyler was able to save 5 lives through his gift, including a 13 year old girl who was experiencing heart valve complications. "He was meant to be someone," says Constant. "He was meant to save lives, and he did that."
Join the Kentucky Organ Donor Registry today, and say YES to be someone's hero if you are able to.