Brenda Miller- Double Lung Recipient
Brenda Miller is a Double Lung Recipient from Grayson County.  Brenda had been working in a plastic factory for several years when she found out that she had only 8% lung function.  Brenda had to wait 3 long years for her lungs, as she was too weak to be put on the organ donor list at first.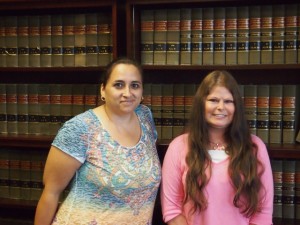 Aftermany months of building up her strength through rest, and as much exercise as she could handle, she was finally placed on the transplant list. Brenda is doing great today, and says she felt amazing as early as 2 weeks after her transplant!  She is pictured here with her Son's Girlfriend Rachael, who was her lifeline during the waiting period, teaching her how to crochet and keeping her company.  Brenda would not be here today if someone like you hadn't said 'YES' to Organ Donation!