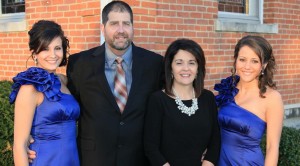 Kenny has always been a fun loving guy with a big heart.  Unfortunately this heart gave out on him due to a hereditary condition from his mom's side years ago.   Cardiomyopathy is a disease of the heart muscle that often times requires a heart transplant.   Being a family man, and a loved member of the Marion County community, his diagnosis was a substantial shock to him, his wife and two daughters.
Prior to diagnosis, Kenny loved spending time outdoors turkey and deer hunting, riding 4 wheelers, laughing with his family, and enjoying nature with his friends. Once he started to get sick, he was unable to do these things as frequently and eventually, he was unable to do these things at all.  Extreme fatigue, stomach pain, and loss of appetite kept him weak and withdrawn from all the things that he loved.
Kenny's condition worsened and he was forced to be put on an LVAD (left ventricular assist device) to help his heart pump for the long months ahead.  LVADs are only recommended to those who are in end stage heart failure, so this procedure put him at the top of the transplant waiting list.  Having to wait months for a call that was not guaranteed to come, took its toll on the Hamilton family.  Gripped with worry and concern for Kenny's health, the waiting was torture.
14 months went by before Kenny got the call and received his heart transplant on April 8th, 2010.  His family was overjoyed to hear that someone was selfless enough to say YES to organ donation and choose to save a life after they were gone.
Today Kenny is vibrant and full of life.  Everyone describes him as an absolute cut up, as he puts a smile on most people he meets faces.    He looks forward to a long life full of laughter with his wife of 26 years, to walking is daughters down the aisle and holding his future grandbabies.  All of which would not be possible without one person's selfless act to be an organ donor.
"If I could meet my donor's family, I would thank them 1,000 times over.  They have given me a life that I would not have had without them."  He hopes to meet his donor's family one day, to deliver this message in person.
Please consider joining the Kentucky Organ Donor Registry and being someone's hero!